What to expect
Preadmission

Provide information for hospitalization

Hospital rules and regulations
Preferred room type and rate

Financial counseling

Estimate cost of treatment
Insurance coverage
Discuss payment agreement

The day of admission

Arrange a room
Check-in at International Health Services
Make an initial deposit
Escort to the room

Discharge

Discuss discharge Instructions
Make follow-up appointments
Issue medical documents
Complete payment
Staffs of International Health Services will be there for you as an liaison between you and your medical team during your hospital stay. If you need to cancel or delay your admission, please contact us as soon as possible.
Room and Ward
Each room is furnished with a bed for the patient and a cot for the companion. Bathroom for the patient is also available in the room. It is also equipped with a TV and a refrigerator. Rooms are assigned depending on availability and your medical needs. The cost & size of the room, furniture and equipped appliances may vary.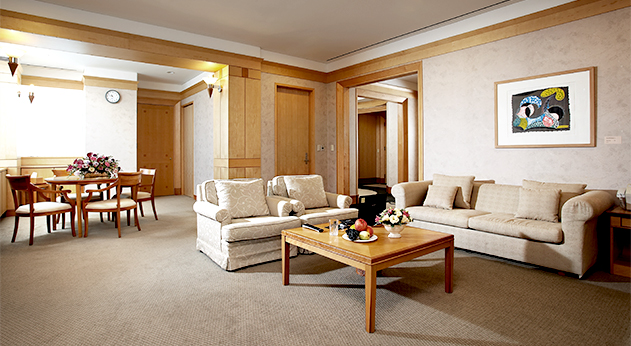 Meals

Patients can choose a meal from among Korean, Western, Russian, Arabic, Mongolian or Thai cuisine.

Telephone service

The telephones are installed in each room. Please press the button "#" on the phone before making outside calls. International calls can be made from room phones upon request. You will be charged for the international phone call service upon your discharge from hospital.

Lounge

TV, pay phone, vending machine, drinking fountain will be found in the lounge to be used at your convenience.

TV Channel

CNN, BBC, NHK-W, CH-J, CCTV, TNT, NTV, Abu Dhabi, Al Sharqiya.

Internet

The in-room Internet service is only available in single-patient rooms; however, the charged WiBro (Wireless Broadband Internet) service will be available in other rooms. Free Wi-Fi is available in the hospital lobby.
Visiting hours
To ensure the comfort of the patient and prevention of infection, only ONE guardian with an entrance permission slip can enter.
- 1 entrance permission slips will be issued per patient at admission.
- Visitors without a slip must visit during the following visiting hours.
The following visitors are not allowed
- Patients with infectious diseases(respiratory diseases such as cold, tuberculosis or eye/skin infection), Children under school age, group visitors
Main Ward Weekdays,Intensive Care Unit(ICU),Neonatal (ICU) time table
Main Ward Weekdays
Weekdays
18:00~20:00
Weekends/Holidays
10:00~12:00
18:00~20:00
IntensiveCare Unit(ICU)
Daily
10:30~11:00
19:30~20:00
Neonatal (ICU)
Daily

24hours
Parking Information
Free parking is available on the day of admission, operation and discharge.
Parking Information