Wellness Care Exercise Program
This is a Physical Activity Enhancement Program prepared for improving the Quality of Life

01.
Introducing the Program
Regular exercise can help to enhance decreased physical strength and reduce stress, insomnia, and depression which can occur during the treatment process.
The fatigue that patients might experience can be reduced by participation in the exercise program for enhancing one's physical activity during the proton treatment period.
Moreover, it can help patients to return to a normal life and improve one's quality of life.
Picture
Decrease physical strength due to operation and chemotherapy
Severe stress during treatment
Fatigue from continuous daily treatments
Picture
How should I start my workout?
Which exercises are good for me?
How much exercise time and level?
Picture
Achieve a vibrant life through the exercise program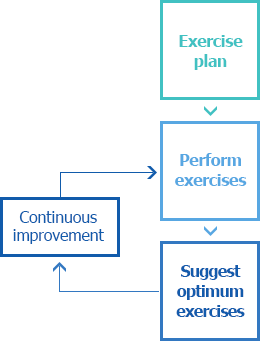 Exercise plan
Perform exercises
Suggest optimum exercises
Continuous improvement
Personalized

Exercise Plan

Suggest personalized exercise programs for each patient according to the physical structure, cardio pulmonary functions, and strength measurements before and after the treatment
Perform exercises
based on number measures
Understand the precise level of physical activity through activity checks using the wearable device
Activity level, cardio pulmonary functions (6 min walking), strength (dynamometer)
Suggest optimum exercises according to the
exercise specialists
Guide you through the severity of optimum exercises and amount of exercise time through continuous consultations during the treatment period
Program Process
Initiation of Treatment (Week 1)
During the Treatment (Week 3~4)
End of Treatment (Week 5)
Objective

Identifying the level of physical strength and degree of physical activity

Giving advice on an appropriate amount of exercise and educating about the exercise

Educating about the exercise after the end of treatment

Details

Check the Physical Activity


Identifying whether the patient exercises regularly
Educating how to put wearable devices to measure the degree of regular physical activity

Measure the Physical Strength


Cardiopulmonary Function: Walking for 6 minutes (meter)
Muscular Strength: Grip Strength (kg)

Measure the Body Component


It is measured in the first basement level at the Diabetes Center of the Main Building

Implement the Exercise
Check the amount of exercise and degree of fatigue from the previous week.
Consultation of the next week's exercise

Implement the Exercise
Check the amount of exercise and degree of fatigue from the previous week.
Consultation of the next week's exercise