We deliver warmth of hope to
children with pediatric cancer.
Which cases of pediatric cancer can be applied with proton therapy?
Aside from cases where it is necessary to transfer radiation to the entire body, proton therapy can be suggested for all cases of pediatric cancer that need radiotherapy.


Brain tumor: including medulloblastoma, primitive neuroectodermal tumor, ependymoma, germ cell tumor, giloma, meningioma, carniopharyngioma, pituitary adenoma
Soft-tissue sarcoma: including rhabdomyosarcoma, osteosarcoma, Ewing's sarcoma)
Neuroblastoma
Wilms' tumor
Lymphoma
Why suggest proton therapy for pediatric cancer?
For children, the radiation tolerance is low compared to adults, and therefore, there are concerns pertaining to radiation transfer.
It has been reported that there are more side effect risks during or before the children's period of growth, compared to adults. Furthermore, the pediatric cancer survival rate has increased and at the same time, the problems associated to side effects from long-term radiotherapy have been established. The proton treatment has an advantage of minimizing the unnecessary radiation exposure to the normal organs.
You can live a health life without worrying about secondary cancer.
For the last 60 years, there were outstanding achievements in the pediatric treatment results. Currently, a 5-year survival rate has been achieved in 80% of the pediatric patients. However, following this improvement, there are increasing concerns of the toxicity, which incurred from the short-term and long-term treatment, negatively influencing the pediatric patients' quality of life.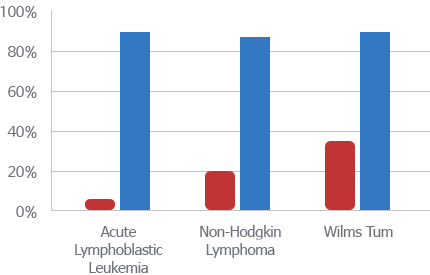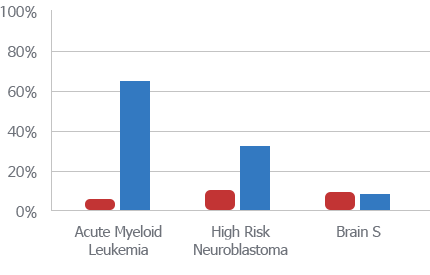 The survival rate of pediatric patients who have received treatment: 1960 (red color) and 2000 (blue color)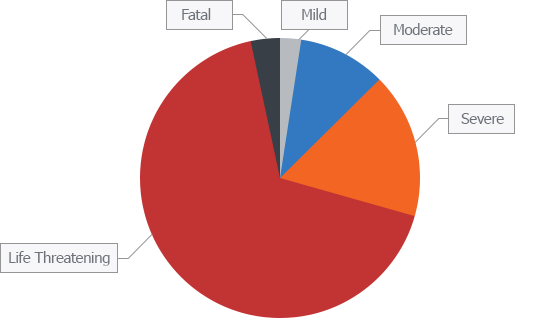 The Most Severe Level of Toxicity Incurred During Treatment for Rhabdomyosarcoma Childhood Patients
(Journal of Clinical Oncology 1995;13:610-630)
Until now, the results of pediatric tumor have been improved, especially by adding local radiotherapy to the operations and chemotherapy. Therefore, the primary goal of the proton therapy is to decrease the risks of secondary cancer and side effects while maintaining the current high survival rate. Some of the preliminary reports stated that the proton treatment transfers same amount of radiation as the X-ray treatments while decreasing the side effects. Moreover, it reported that pediatric patients who have achieved long-term survival through radiotherapy have 3 times more risks of secondary cancer development compared to ordinary people. The proton therapy transfers significant small amount of low-dose radiation, which can be the cause of secondary cancer. Therefore, we expect that proton therapy will achieve long-term decrease in the development rate of secondary cancer.
[FAQ]

What is the repetition rate of secondary cancer?

[참고] 2차암 발생빈도

Cancer per 1,000 person-y

[참고] 2차암 발생빈도

| Proton therapy | X-ray treatment |
| --- | --- |
| 6.9 | 10.3 |

※ The above table is a summary of the data below

Development of Secondary Cancer Decreased


Comparative Study of Secondary Cancer Repetition Rate After Radiotherapy
Retrospective cohort matched study (1997~2001)
하버드 양성자(n=588) vs SEER x-선치료 (n=558)


Comparative Study of Secondary Cancer Repetition Rate After Radiotherapy
Matched photon vs Matched proton
Matched proton
Matched photon
P value*
No. of patients
585
588
-
Sex [n (%)]
-
Male
393 (70%)
393 (70%)
-
Female
165 (30%)
165 (30%)
-
Median age at treatment (IQR) (y)
59 (28)
59 (29)
.98
Median y of treatment (IQR)
1993 (12)
1993 (11)
.35
Follow-up time (IQR) (y)
6.7 (7.4)
6.0 (9.3)
.14
Primary tumor site [n (%)]
Central nervous system
178 (32%)
178
-
Head and neck
133 (24%)
133
-
Genitourinary
186 (33%)
186
-
Musculoskeletal
43 (7.7%)
43
-
Gastrointestinal
15 (2.7%)
15
-
Lung
2 (0.4%)
2
-
Lymphoma
1 (0.2%)
1
-
Other
0
0
-
Incidence rate of s cancer
(per 1000 person-y)
6.9
10.3
.085†

(Chung CS et al. Int J Radiant Oncol Biol Phys 2013:87:46)