Samsung Comprehensive Cancer Center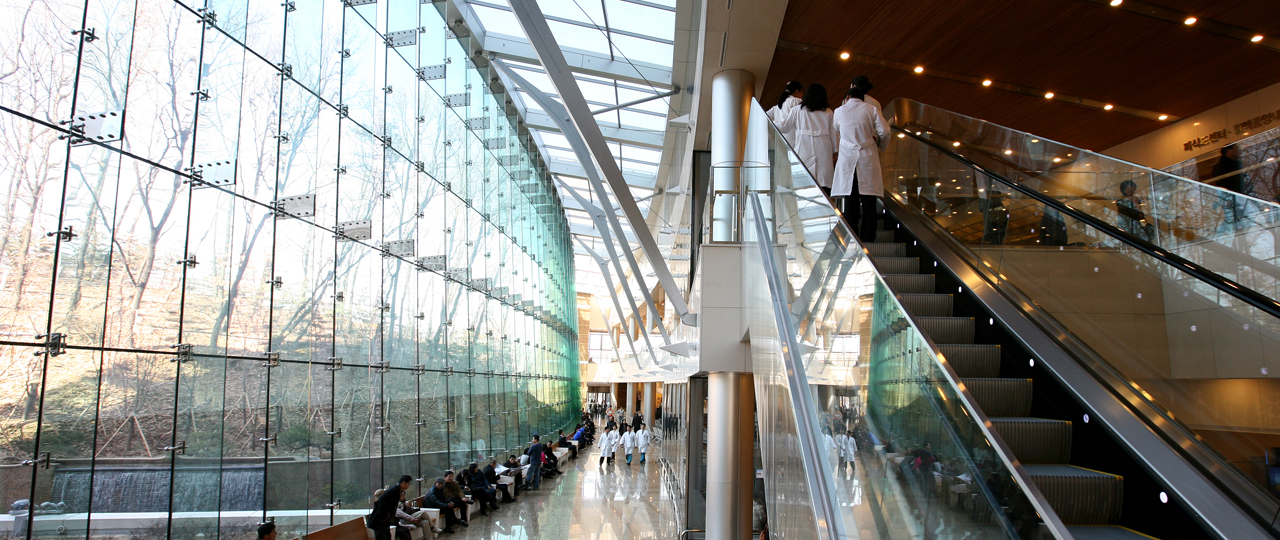 As Korea's largest independent building with 11 floors aboveground, 8 floor underground, the Samsung Comprehensive Cancer Center now provides the most comprehensive care for cancer patients in Asia.
Creating a New Standard for Cancer Center
With the construction of an eco-friendly yet futuristic infrastructure, the Samsung Comprehensive Cancer Center aims to create a new standard for cancer care; covering prevention, examination, medical care, treatment, education, research and rehabilitation.
The top-of-the-line medical services that Samsung Comprehensive Cancer Center provides start with the trusted expertise of staffs, the world's best cancer treatment systems, and personalized education and consultations.
Advanced Interdisciplinary Treatment / One-stop Treatment
So as to provide the swiftest and most precise treatment, Samsung Comprehensive Cancer Center developed an interdisciplinary treatment system and a One-stop Consultation system. Outpatient consultation rooms and examination rooms are assigned for each type of cancer, and a Professor's Office located at the center of the inpatient ward enables speedy treatment.
Moreover, by building Korea's largest Cancer Ambulatory Treatment Center with 78 beds, Samsung Comprehensive Cancer Center made it possible for patients to receive daily anti-cancer treatment without having to be hospitalized.
Meanwhile, through interdisciplinary treatment methods, staff members at the cancer center are collaborating with relevant staffs at Samsung Medical Center to treat cancer patients' comorbid conditions such as diabetes, heart-diseases or hypertension.
Cutting-Edge Medical Equipment
To provide the highest quality treatment and care possible, Samsung Comprehensive Cancer Center has the most up-to-date medical equipments including Novalis (the most advanced radiotherapy delivery system), IGRT (Image-Guided Radiation Therapy), the Da Vinci System (high-accuracy robotic surgery system), and MR-HIFU (Magnetic Resonance-based High Intensity Focused Ultrasound).
In 2015, Samsung Comprehensive Cancer Center is scheduled to introduce Proton Therapy which would target and destroy cancerous cells more efficiently.
Personalized Medical Services
To ensure the utmost care and comfort of its patients, Samsung Comprehensive Cancer Center guarantees solicitous services provided by our experienced nurses, an inpatient pharmacy and convenient administration processes to name just a few.
Housed within the Samsung Comprehensive Cancer Center, the Cancer Education Center (the first of its kind in Korea) provides information about the various aspects of cancer and raises awareness about the treatments available to patients, their families and even to visitors. In addition, the Cancer Education Center provides a continuous program of integrated education classes including music therapy, art therapy and laughing therapy in favor of the patients.
Reinforcing Cancer Research & Nurturing Superb Medical Human Resources
In effort to become a world-class medical institution that specializes in cancer treatment, Samsung Comprehensive Cancer Center expanded its Cancer Various measures such as Research Professor System were taken to strengthen basic and clinical research conducted within the cancer center. Moreover, to nurture superb medical professionals, Samsung Comprehensive Cancer Center had recently created various exchange programs for young and promising doctors; providing them with the opportunity to receive extensive medical training overseas at prestigious medical institutions. Additionally, the Samsung Comprehensive Cancer Center runs a variety of specialized courses in its commitment to rear experts in each medical field.