Pre-admission
Provide information for hospitalization

Hospital rules and regulations
Preferred room type and rate

Financial information

Estimate cost of treatment
Insurance coverage
Discuss payment agreement
The day of admission
Arrange a room
Check-in at International Health Services
Make an initial deposit
Escort to the room
Discharge
Discuss discharge Instructions
Make follow-up appointments
Issue medical documents
Complete payment
Staffs of International Health Services will be there for you as an liaison between you and your medical team during your hospital stay.
If you need to cancel or delay your admission, please contact us as soon as possible.
Room and Ward information
Each room is furnished with a bed for the patient and a cot for the companion. Bathroom for the patient is also available in the room. It is also equipped with a TV and a refrigerator. Rooms are assigned depending on availability and your medical needs. The cost & size of the room, furniture and equipped appliances may vary.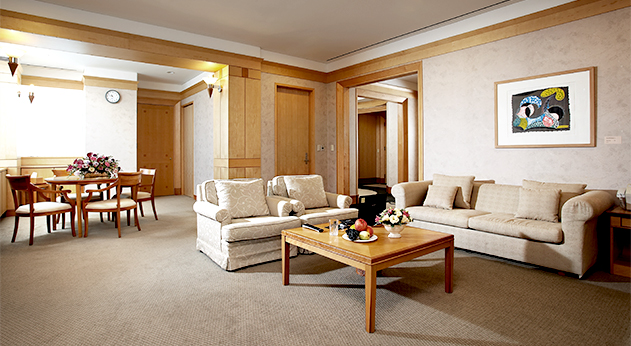 Meals

Patients can choose a meal from among Korean, Western, Russian, Arabic, Mongolian or Thai cuisine.

Telephone service

The telephones are installed in each room. Please press the button "#" on the phone before making outside calls. International calls can be made from room phones upon request. You will be charged for the international phone call service upon your discharge from hospital.

Lounge

TV, pay phone, vending machine, drinking fountain will be found in the lounge to be used at your convenience.

TV Channel

CNN, BBC, NHK-W, CH-J, CCTV, TNT, NTV, Abu Dhabi, Al Sharqiya

Stay of Companion

Only one companion can stay during a patient's hospitalization; however, the companion should bring his/her personal items including blanket and pillow.

Caregiver

If you need to find a caregiver, please ask a nurse at the IHS center.

Deposit

You will have to pay a deposit as part of the hospitalization cost on the day you enter the hospital.

Internet

The in-room Internet service is only available in single-patient rooms; however, the charged WiBro (Wireless Broadband Internet) service will be available in other rooms. Free Wi-Fi is available in the hospital lobby.

Religiousž Rooms

There are rooms for Catholics, Christians, Buddhists and Moslems.
What to bring
For Expecting Mothers
The following are guidelines for expecting mothers and their families who are preparing for admission. It might be easier to consider packing an overnight bag ahead of time. Below list is to give you an idea of what kind of items you might consider packing for your stay at the hospital in addition to other personal items.
For Mother :
Toiletries
Underwear (Nursing bra)
Warm cotton socks
Extra clothes
Comfortable shoes
Cushion to support breast feeding
For Baby (below is needed on the day of discharge) :
Clothes and hat to wear home
Receiving blanket(s)
Outer blanket
Baby milk bottle (optional for those who live far away)
Parent's photo ID
An admission Kit
An admission kit is provided at a cost by IHS staff at the time of admission for those who do not have their personal items. Items in the admission kit include a pair of slippers, a box of tissue, a drinking bottle, toothbrush, toothpaste, soap, shaver, shaving cream, comb, a bottle of shampoo, shower gel and body lotion.
Meal Time
| Breakfast | Lunch | Dinner |
| --- | --- | --- |
| AM 7:30 | PM 12:30 | PM 6:00 |
Meal Options  : Korean, Western, Russian, Mongolian, Arabic, Thai
※ When given a menu with your meal, circle one option.
FOOD Service for companion :

Caregivers/family members of patients can request to have their meals served at a cost. Please let the nurses know in advance.
Visiting hours
To ensure the comfort of the patient and prevention of infection, only ONE guardian with an entrance permission slip can enter.
- 1 entrance permission slips will be issued per patient at admission
- Visitors without a slip must visit during the following visiting hours.
The following visitors are not allowed
- Patients with infectious diseases(respiratory diseases such as cold, tuberculosis or eye/skin infection), Children under school age, group visitors
Visits to a patient might be restricted depending on the patient's symptoms and circumstances.
Children under 6 years old are prohibited to enter the hospital ward as they are vulnerable to infection by contagious diseases.
As for the visitors / family members of a critical patient, please wait at in waiting room of the Critical Patient Ward on the 3rd floor of the main building.
The number of visitors for a critical patient will be limited to one per visit. Please keep your visit brief for the patient's peace and tranquility.
Behavior (loud noises, cooking, etc.) that might be harmful to the patients' peace and tranquility are prohibited.
Religious events (by group visitors) are prohibited.
It is prohibited to bring a plant or flowerpot into the ward to prevent bacterial infections.
Main Ward Weekdays
Weekdays
18:00~20:00
Weekends/Holidays
10:00~12:00
18:00~20:00
Intensive Care Unit (ICU)
Daily
10:30~11:00
19:30~20:00
Neonatal ICU
Daily
24hours