Anesthesiology and Pain Medicine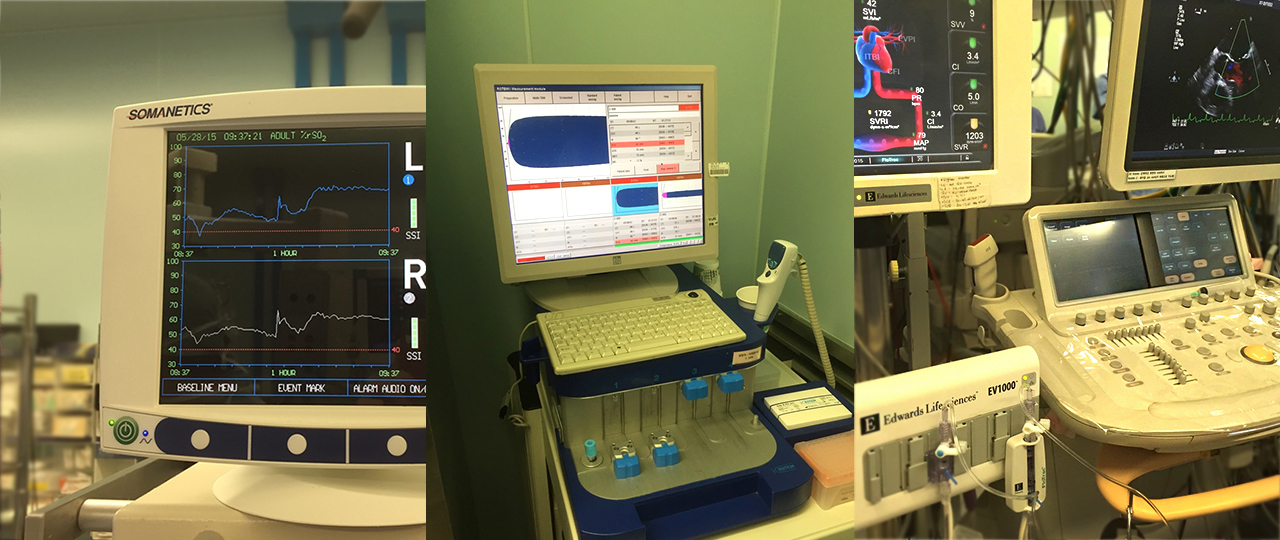 The Department of Anesthesiology and Pain Medicine at the Samsung Medical Center is run with the slogan "patient-centered anesthetic management." We perform anesthesia for organ transplantation, cardiovascular surgery, and brain and nervous system surgery in 25 operating rooms in the main building; for cardiac and cerebrovascular surgery in the hybrid operating room; for lung, esophageal, head and neck cancer in 20 operating rooms in the specialized cancer hospital; for surgery and urologic cancer in the general building/hospital?; and in two robotic operating rooms.
In the 11 operating rooms in the annex, we perform anesthesia for simple surgery without the need for admission, including the day surgery center; ophthalmologic surgery; and urologic and thyroid surgery. Also, we perform around 4,000 anesthesia cases per year outside of the operating room, for angiographic interventions in the Department of Radiology, high-frequency ablation therapy for hepatic and renal cancer, sedation for pediatric patients, anesthetic support for proton therapy in pediatric brain cancer, and excision for superficial gastroesophageal cancer. On the basement floor of the main building we run a pain management clinic and acute pain management room to focus on the acute and chronic pain management, including post-operative pain.
Strong points
1. Providing Best Cancer Information Services
Since the first liver transplantation at the Samsung Medical Center in May 1996, we have performed 1,626 cases of liver transplantation as of May 2015. Anesthesia for liver transplantation is performed by professors who specialize in this type of anesthesia based on the SMC protocol and guidelines which in turn are based on clinical experience and research-based evidence accumulated over the past 20 years. Our liver transplant anesthesia team has published articles in the world's top-class journals in the past 3 years to achieve global recognition, and is making efforts to deliver and share our experience and expertise as a leader in liver transplantation to transplant centers worldwide. This is the reason many foreign liver transplant physicians visit our hospital every year.
2. Cardiovascular anesthesia
The cardiovascular anesthesia team at the Samsung Medical Center is equipped with specialized personnel and various up-to-date monitoring devices to ensure the patients' safety and the best surgical results and prognosis for them during surgery. In the operating rooms in the main building, 1,400 cases of cardiac surgery are performed every year including adult coronary bypass surgery, surgery for aortic diseases, valvular diseases, cardiac transplantations, arrhythmias, and pediatric congenital heart diseases. Also we have four procedure rooms, other than operating rooms, where we perform percutaneous repair of congenital heart diseases and aortic disease (endovascular aortic aneurysm repair) and transcutaneous aortic valve insertion, and in 2015 we are planning to open a new hybrid room with up-to-date equipment where we will perform concomitant transcutaneous procedures and open heart surgery for cardiac arrhythmia.
3. Anesthesia for robotic surgery
We provide the most appropriate and safe anesthesia for older patients with many comorbidities based on plenty of experience and research results. For patients undergoing robotic surgery, we employ ventilation methods that minimize lung ventilation problems caused by increased intra-thoracic pressure, and manage various comorbidities such as cardiovascular diseases, pulmonary diseases, and diabetes in older patients to minimize the occurrence of adverse effects from the long duration of surgery. As we actively provide relaxation and pain control to maintain the patient's pre- and post-operative comfort to correspond with the advantages of minimally invasive robotic surgery, patient safety and satisfaction are very high.
4. Anesthesia for the brain and nervous system
Board-certified anesthesiologists with various experiences in brain and nervous system anesthesia provide appropriate anesthesia for brain tumors, vascular malformations such as cerebral aneurysms, epilepsy, traumatic lesions, various vertebral diseases, pediatric brain tumors, and Moyamoya disease. We provide the most adequate anesthesia for neurosurgical procedures while maintaining cerebral blood flow and oxygenation throughout the surgery. We also perform highly difficult anesthesia, such as anesthesia for awake brain surgery, to check if the patient can follow orders during the procedure while performing surgery for tumors in special locations. We provide anesthesia not only in the operating room, but also for cerebrovascular procedures performed by the Department of Radiology, for the patients' safety.
5. Pulmonary and esophageal anesthesia
We have the best center in Korea for the surgical treatment of lung and esophageal cancer (2010 - 2014: 4,731 cases of pulmonary lobectomies and 1,036 cases of radical surgery for esophageal cancer), and we take charge of the surgical and recovery process with various anesthesiologic methods that correspond to our reputation. We systematically perform highly difficult intubations, one-lung ventilation, intra-operative protection techniques for the lungs and major organs, and post-operative pain control (thoracic epidural analgesia, paravertebral block and wound block, and patient-controlled analgesia), and show the lowest degree of morbidity and mortality in the world through group conferences on the everyday management of surgical patients.
6. Anesthesia for MRI/CT tests in pediatric patients
Pediatric sedation anesthesia is performed by medical personnel in the Department of Anesthesiology and Pain Medicine for children undergoing MRI/CT examinations. It is common for children to experience fear and separation anxiety away from their parents, which leads to difficulties in performing MRI/CT examinations. We administer small amounts of anesthetic drugs to maintain sedation/anesthesia appropriate for pediatric patients to be relaxed while performing these tests. We monitor the children's respiratory and cardiopulmonary functions throughout the procedure to ensure their safety.
7. Pediatric orthopedic anesthesia
As pediatric patients show a higher rate of respiratory adverse effects on the initiation/termination of anesthesia compared to adults, laryngeal masks are used instead of endotracheal tubes for most pediatric patients to prevent such effects. surgery on , The rate of using laryngeal masks, when performing orthopedic surgery on pediatric patients, has reached up to 70% in recent data from our hospital, and this is a very high level in both Korea and the world. Also, to prevent psychologic trauma from negative feelings about the operating room environment and on waking from anesthesia, we induce amnesia before anesthesia to take the safety, physical, and psychologic well-being of the patient into consideration.
8. Anesthesia for otorhinolaryngology
Diseases treated by the Department of Otorhinolaryngology include various diseases related to the ears, nose, and neck, and all tumors of the head and neck excluding those of the eyes. Adequate anesthesiologic management is necessary for the diverse spectrum of surgical treatments performed to treat these diseases. The otorhinolaryngology anesthesia team at the Samsung Medical Center performs around 3,500 cases of otorhinolaryngology anesthesia every year including anesthesia for babies and infants, pediatric anesthesia, anesthesia for day surgery, and anesthesia for patients under intensive care. We apply up-to-date anesthesiologic devices and vital sign monitoring equipment to provide a safer and more specialized otorhinolaryngology anesthesia service.
9. Introduction to the pain clinic
In the pain clinic, we diagnose and treat various chronic pains in all parts of the body, excluding those that can be cured by medical or surgical treatment alone. We block negative pain feedback loops through drug therapy, physiotherapy, nerve blocks, and neurolysis, and treat pain by stabilizing the excited state of the peripheral and central nervous systems. We treat musculoskeletal pain including herpetic and post-herpetic pain, back pain of various causes, radiation pain, myofascial pain syndrome, headache and facial pain, shoulder and neck pain, abdominal pain, phantom pain, complex regional pain syndrome, and cancer pain, through close collaboration with other departments using a multi-disciplinary approach. We perform research and make efforts to perform not only nerve blocks, but also laser procedures, neuroplasty, and implantable spinal cord stimulators for intractable pain.