Gastrointestinal Center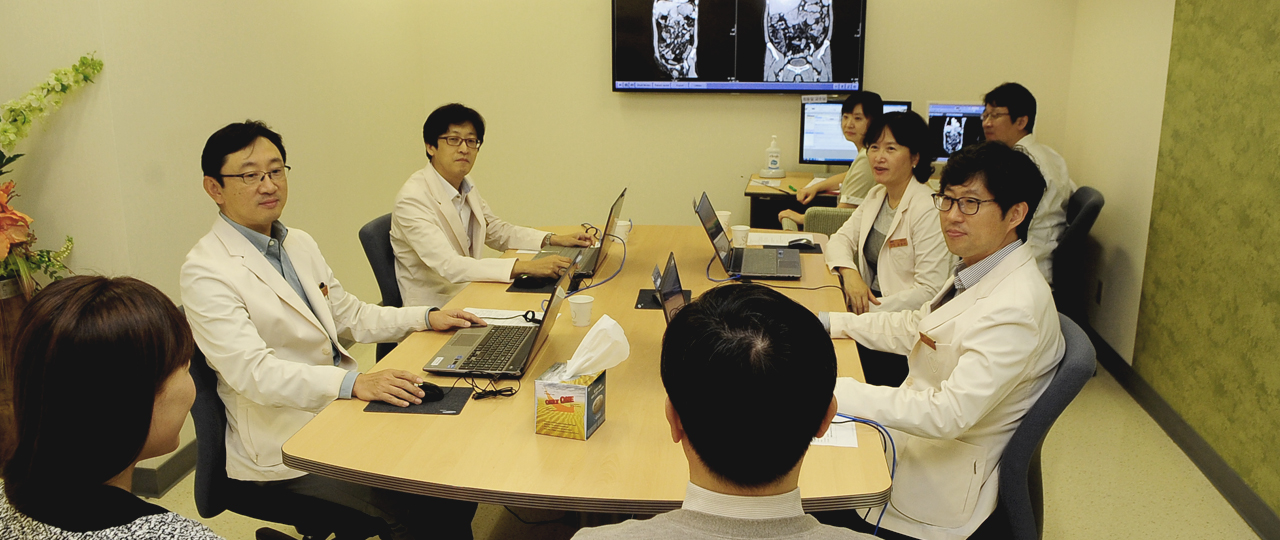 To provide high-quality, patient-centric medical service, the Gastrointestinal Center draws on faculty from many departments related to gastrointestinal disorders, such as the departments of gastroenterology, general surgery, transplantation surgery, radiology and pathology. Staffed by the best faculty and equipped with the most advanced medical devices, the Gastrointestinal Center provides patients with the services they need promptly and reliably. Our digestive disease center consists of the upper gastrointestinal tract team, lower gastrointestinal tract team, liver team, and pancreatobiliary team.
Major areas of treatment
Specialties: Gastroesophageal reflux disease, gastrointestinal motility disease, inflammatory bowel disease, hepatitis B and C, liver cirrhosis, biliary calculus, pancreatitis, as well as other digestive diseases
Clinics
TThe Samsung Medical Center is developing an SMC Integrated Care System to foster the growth of patient-centric clinics that provide personalized treatment for each patient through inter-departmental, multidisciplinary consultations. To facilitate this, Samsung Medical Center set up the following clinics:
Intractable Colon Polyp Clinic
Pancreatic Cyst Clinic
Intractable Liver Disease Clinic
Esophageal Disease Clinic
To keep pace with this system, we are planning to open clinics focusing on overcoming changes in gastrointestinal functions after cancer, precancerous colon lesions, and biliary stricture after liver transplant.
Strengths
The Gastrointestinal Center specializes in research within the field of motility. We are also a major player in the clinical practice and research of radiofrequency thermal ablation for liver cancer. With endoscopic submucosal dissection, we are able to excise lesions of all sizes, overcoming the limitations of previous endoscopic resection methods. Endoscopic submucosal dissection reduces the need for an invasive operation like laparotomy and allows patients to return to their normal routines right after the procedure, making it an extremely convenient surgical technique.
Latest treatment methods
We employ endoscopic submucosal dissection in our clinic because it is the most advanced endoscopic treatment modality.
Recent trends in clinical research
The Gastrointestinal Center is performing clinical research involving new diagnostic and treatment methods using endoscopic ultrasonography, and genome studies with tissue samples obtained from fine needle aspiration. We are also conducting specialized IT research that combines big data analysis and individualization research with surveillance modalities and strategies.