Gastrointestinal Surgery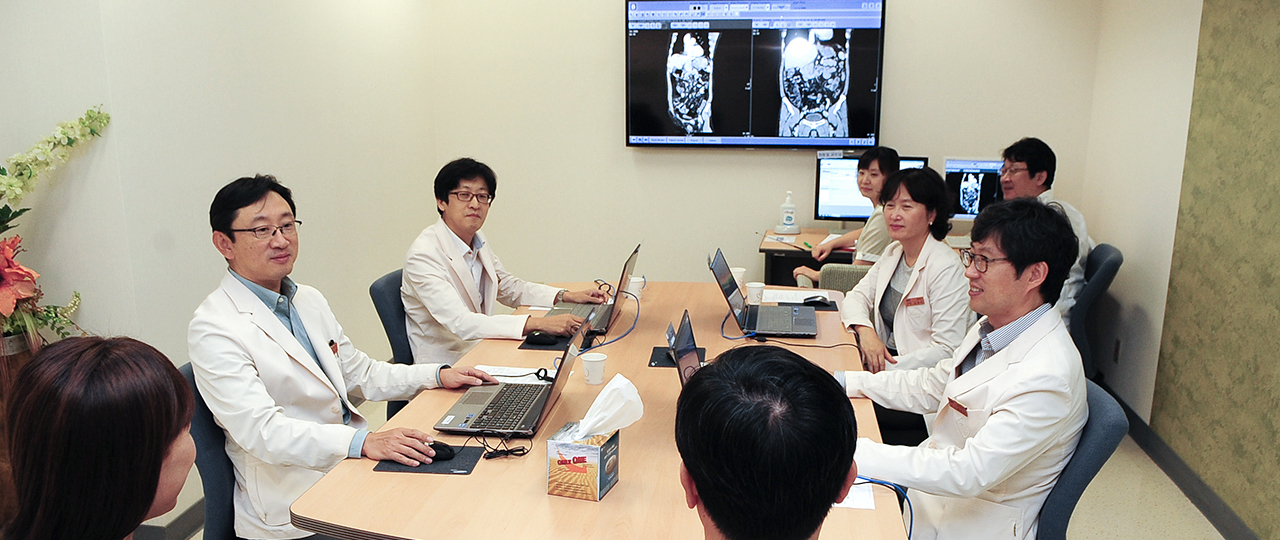 In the Department of Gastrointestinal Surgery at the Samsung Medical Center, we perform accurate diagnosis and effective treatment for gastrointestinal disorders, and all the medical personnel do their utmost to provide the best medical service possible.
Major areas of treatment / Clinics
The Department of Gastrointestinal Surgery offers world-class surgical treatment for diseases of the liver, biliary tract, pancreas, stomach, small intestine, colon, rectum and anal area. We provide diagnosis and treatment for hepato-pancreato-biliary diseases including hepatic cancer, gallbladder cancer, cholangiocarcinoma, ampulla of Vater cancer, pancreatic cancer, and gallstones; gastric diseases including benign and malignant tumors of the stomach; colorectal diseases including malignant tumors of the colon, rectum and anus; benign diseases (hemorrhoids, anal fistulas, and hernias); and inflammatory bowel diseases (Crohn's disease, ulcerative colitis).
Strong points
We are introducing robotic surgery for the whole spectrum of gastrointestinal procedures including liver, colon, and stomach surgery, and expanding its application. Our laparoscopic skills have improved to become first-rate in the nation, and single incision laparoscopy, which had limited application to benign diseases such as acute appendicitis and cholecystitis in the past, is now being actively used for malignancies of the stomach and colon.
We have introduced a multi-disciplinary approach in an effort to see not only the disease, but also the whole human being as a target of treatment, and medical personnel from the relevant fields other than the department of surgery, including the Departments of Internal Medicine, Radiation Oncology, and Radiology, are actively participating in the treatment of patients. We have introduced face-to-face multi-disciplinary consultations that allow direct communication between the patient and medical personnel to provide more rapid and accurate medical care and increase patient satisfaction.
For the patients' convenience, we have adopted and are running a fast-track program that allows diagnostic testing, checking of test results, and establishment of a treatment plan in just one day.
We apply standard treatment protocols (clinical pathways) to all inpatients to achieve standardization of treatment, fewer days of hospitalization, and reduction of medical costs.