Neuroscience Center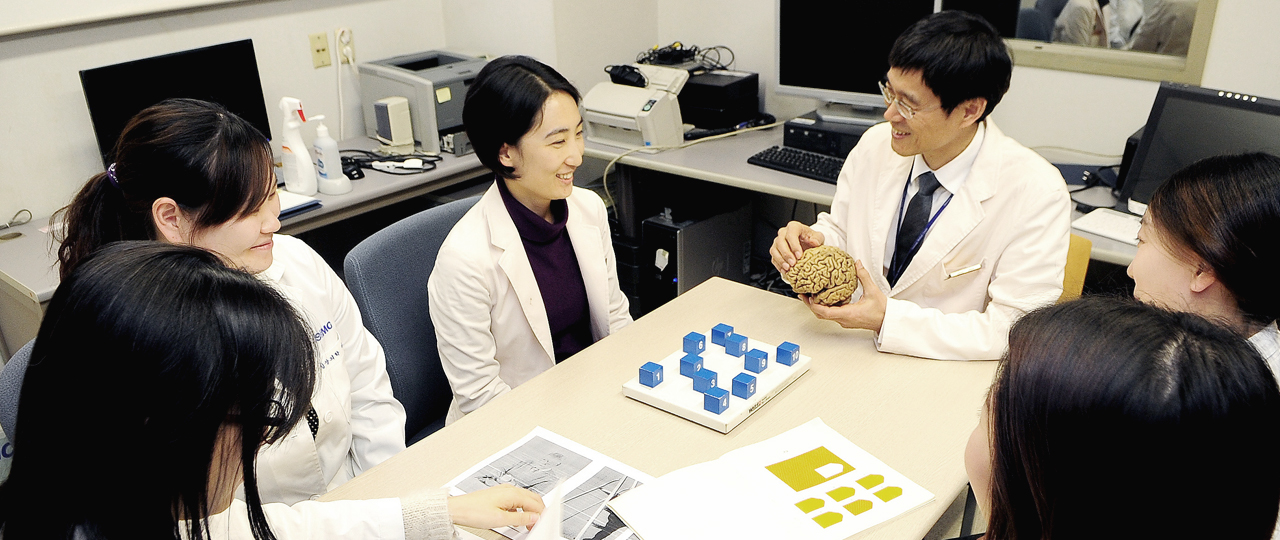 To provide comprehensive services for our patients with neurological and neurosurgical diseases, the staff of the Neuroscience Center is made up of specialized care teams that cater to patients with dementia and Parkinson's, epilepsy, sleep disorders, neuromuscular diseases, and headache. Our specialized care "Dream Team" consists of respected professors from the departments of neurology, neurosurgery, professional nurses, and coordinators that are responsible for providing the best patient care services for our outpatients.
Clinics
Samsung Medical Center's Neuroscience Center is running six specialized clinics:
The Dementia-Parkinsonism Clinic provides medical services for, Dementia and Parkinson's two intractable diseases that are attracting a great deal of attention as our society ages.
The DBS Surgery Clinic performs deep brain stimulation surgery for advanced Parkinson's patients. We are also expanding our treatment to areas other than Parkinson's, such as intractable dystonia, hand tremors and epilepsy.
The Epilepsy Clinic treats more epilepsy patients than any other clinic in Korea, offering precise diagnostic or presurgical evaluation of patients with epilepsy including epilepsy monitoring unit, and patient-oriented optimal therapies, as well as surgical treatments with high success rates for patients with medically refractory seizures.
The Facial Spasm Clinic uses a combination of medication (Botox clinic) and surgical intervention (microvascular decompression) for patients with hemifacial spasm.
The CMT Clinic provides patient-customized diagnosis and treatment for Charcot-Marie-Tooth (CMT) disease. The clinic also performs research on causal genes and the pathogenesis of CMT, using the results to develop new drugs, nerve regeneration therapy (mesenchymal stem cells), gene therapy, regeneration treatment using muscle tissue-engineering, and gene blocking.
The Neuroimmunologic Disease Clinic analyzes and develops antibodies for autoimmune diseases such as myasthenia gravis, myelitis, multiple sclerosis, and peripheral neuropathy.

Outside those six specialized clinics, we also provide treatment for neuromuscular diseases, sleeping disorders, headaches, vertigo, and intraoperative neuromonitoring.
Through this hard work we strive to give hope to our patients with rare and intractable diseases, as well as to pioneer new fields of therapy through research on stem cells.
Other resources
To overcome intractable neurologic disorders the Neuroscience Center is optimizing its clinical and research environment, cooperating with distinguished international universities and institutes, and implementing complicated therapies, such as stem cell, deep brain stimulation, and gene therapy.