Spine Center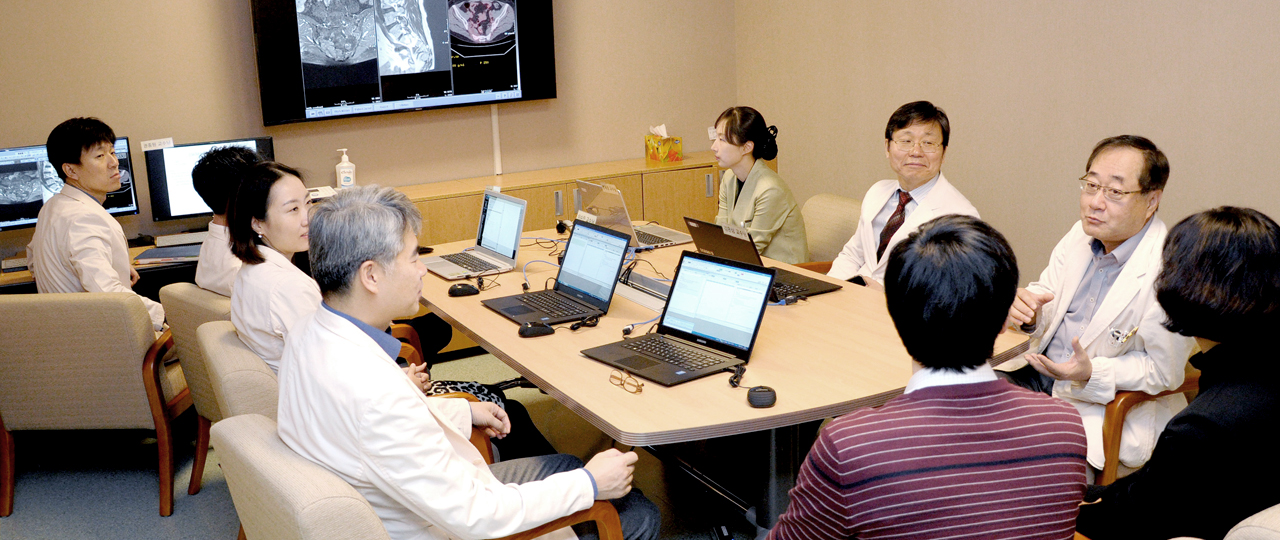 The Spine Center is staffed by 14 specialists who focus on spinal disorders, tumors, injuries, and deformities, all drawn from from seven departments within the hospital. They collaborate with each other systematically to provide the most cutting-edge and comprehensive medical services possible. The Spine Center brings together domestically renowned experts in orthopedic surgery, neurosurgery, pain management, physical therapy, neurology, radiology, surgical oncology and chemotherapy to design the most effective treatment for a range of debilitating conditions.
Major areas of treatment
The Spine Center provides health management for spinal deformities, tumors, fractures, infections, and degenerative diseases afflicting the cervical, thoracic, and lumbar spine.
We also offer rehabilitation and interventional pain management to reduce suffering caused by back and neck problems.
Strengths
The Spine Center treats the full spectrum of spinal disorders, from simple to complex. In particular, we have specialized in spinal tumors, both primary and metastatic, and spinal deformities of children and adults such as scoliosis and kyphosis. The SMC Spine Center also specializes in conditions that are difficult to diagnose and treat. The SMC Spine Center is the first spine center in Korea to specialize in spinal tumor surgery, which requires a multidisciplinary approach for proper management.
Clinics
1. Spine Tumor Clinic
As the first spine center in Korea to organize a Spinal Tumor Board, the SMC Spine Center uses a multidisciplinary approach to treat all kinds of spine tumors.
To treat spine tumors effectively we must first diagnosis them correctly, so we have invested in the most advanced diagnostic equipment and techniques available, such as Positron Emission Tomography (PET), Angiography, CT-guided Biopsy, MRI, CT, and whole body bone scanner. Our spine tumor radiologists can also perform the most cutting-edge diagnostic techniques for diagnosis and interventional management. Surgical treatment for spinal tumors can be very complicated, so we employ only the most experienced surgeons, who can perform complex and delicate procedures, such as total en-bloc spondylectomy, total sacrectomy and reconstruction. Our staff specializing in radiation oncology can also perform the most up-to-date radiotherapeutic management, such as SBRI, IMRT and Tomotherapy.
2. Spine Deformity Clinic
The SMC Spine Deformity Clinic treats patients with scoliosis and kyphosis caused by congenital, idiopathic, neuromuscular and degenerative pathologies.
The SMC Spine Center treats more than 100 children with scoliosis every year and performs the largest number of surgeries in Korea on patients with degenerative scoliosis or degenerative flat back. We employ a range of surgical techniques to ensure the best medical outcome possible. At present, we can correct spinal deformities with a range of procedures including but not limited to pedicle subtraction osteotomy (PSO), Smith-Peterson osteotomy (SPO), posterior vertebral column resection (PVCR) and direct vertebral rotation (DVR).