Vascular Center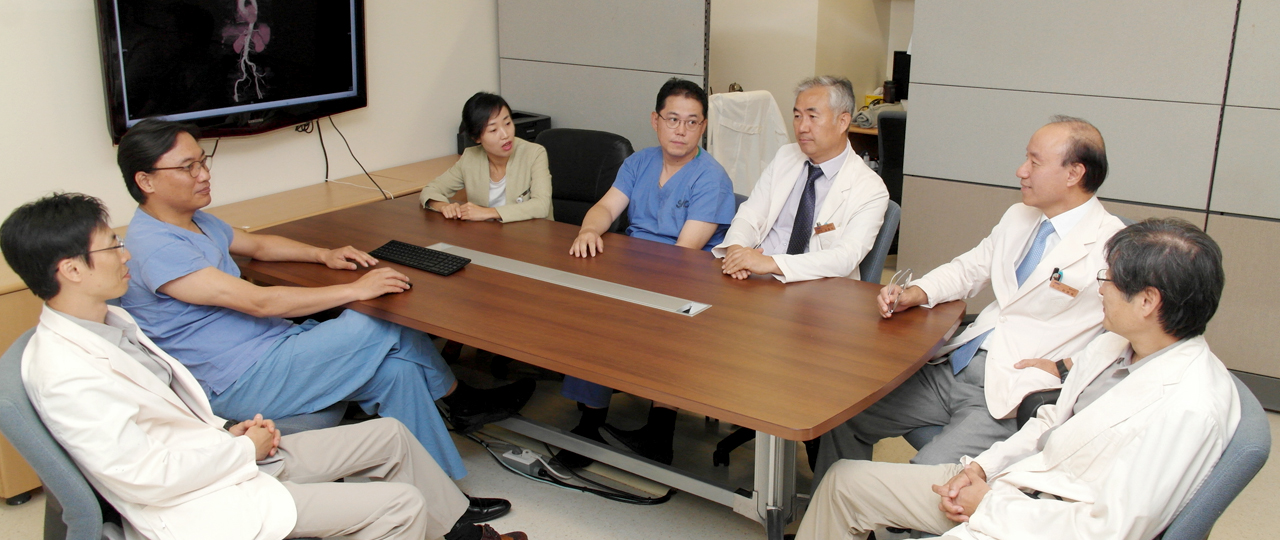 The Vascular Center is a group of three vascular departments (vascular surgery, thoracic surgery, and cardiology), to provide top-class diagnosis and treatment to patients with vascular diseases. SMC's Vascular Center is made up of professional and experienced medical staffs who are dedicated to provide appropriate treatment for patients suffering from vascular diseases. The Vascular Center collaborates with various other centers within the Heart Vascular Stroke Institute to provide the most effective treatment for systemic vascular diseases.
Major areas of treatment
The Vascular Center specializes in all vascular diseases (diseases of aorta, veins, or lymphatic vessels), except coronary artery disease and cerebrovascular disease.
1. Arterial diseases
arterial occlusion
thoracic/abdominal aortic aneurysm/dissection
carotid artery stenosis
diabetic foot
Buerger's disease
2. Vein diseases
varicose veins
deep vein thrombosis
pulmonary embolism
3. Other vascular diseases
vasculitis
angiogenesis
congenital vascular malformation
lymphedema
Strengths
Mainatins a 24-hour aorta team for patients with acute aortic diseases such as ruptured aortic aneurysm and aortic dissection
Runs the nation's largest vascular imaging facilities
Applies hybrid surgical techniques to patients with vascular diseases with complex lesions
Runs a world-renowned vascular malformation clinic
Runs a Marfan clinic where we diagnose and treat 40% of the Marfan syndrome patients in Korea
Diagnostic tests
Noninvasive vascular imaging tests including vascular ultrasonography, Computed Tomography (CT), Magnetic Resonance Imaging (MRI), and invasive angiography
Latest treatment methods
Surgery: Aortic replacement surgery, vascular bypass grafting, carotid endarterectomy
Procedures: Percutaneous angioplasty, stent insertion, stent-graft insertion, sclerotherapy/embolization for vascular malformations, laser treatment for varicose veins
Medications: Management of risk factors for atherosclerosis, anticoagulation, thrombolytic agents
Other
The vascular laboratory is staffed with personnel certified by the American Society of Vascular Ultrasound Radiologic Technologists, so we pride ourselves on the quality and accuracy of our vascular ultrasound diagnosis and services. Our nurse practitioners provide counseling services for vascular patients, adjust their treatment schedule, and support the Vascular Center's QA activities, treatment, and research.